The Opera Euro Rapid took place from February 6 - 14, 2021, featuring a line-up of chess grandmasters from around the world.
After the interesting insights from the Airthings Masters, we sent a Wave Plus and Hub to an additional five grandmasters to monitor their indoor air quality. Over the Opera Euro Rapid, we analyzed a total of nine of the players' air quality - this is what we found.
Magnus Carlsen's heartbreaking defeat to Wesley So
Grandmaster Wesley So won his second event in the Champions Chess Tour, beating grandmaster Magnus Carlsen 2 - 0 in the final. This impressive win places So first in the overall Chess Champion Tour standings. It appears their first match in round 1 of the preliminaries foreshadowed the tournament winner!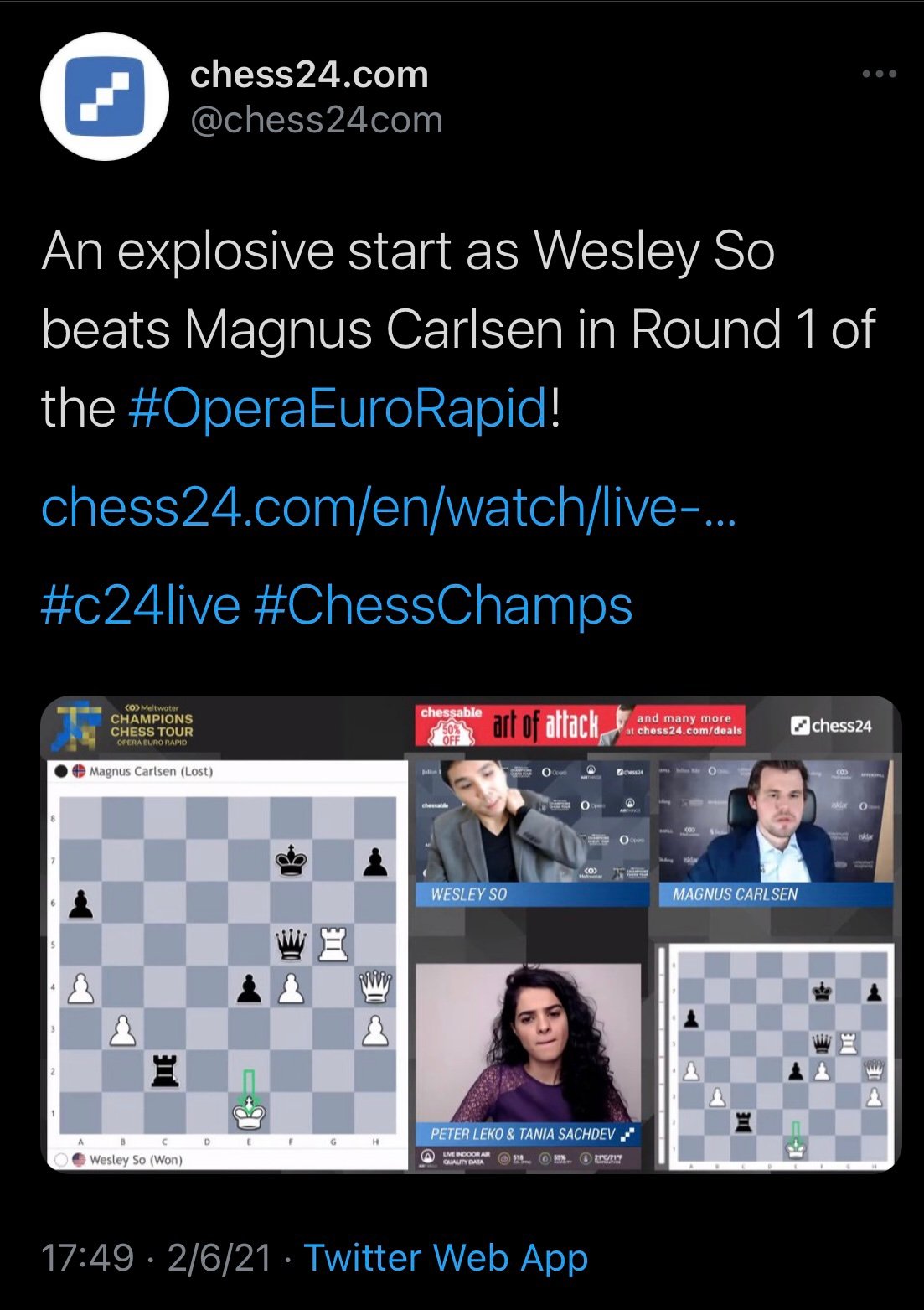 So maintained a healthy average indoor air quality during the finals, with only his temperature falling too low at an average of 16°C / 60.8°F. With a cold front covering most of the United States and temperatures plummeting to - 29.4°C / - 21°F in his hometown of Minnetonka, Minnesota last weekend, we understand how it was so cold in his home! Hopefully this win warmed him up.
"Finally, I'd like to apologize to Magnus for ruining his Valentine's Day" - Wesley So
During the finals, Carlsen's humidity was consistently low, averaging 13%. Maintaining healthy humidity levels indoors is vital as even small changes in the relative humidity can affect your ability to concentrate or perform tasks. Colder climates, such as Carlsen's home country of Norway, often have lower humidity levels than warmer climates because colder air holds less moisture than warm air. In the winter especially, humidity levels tend to be lower. Small, everyday tasks such as cooking, cleaning, clothes washing, and showering release moisture into the air and can help increase your indoor humidity levels.
Pure air, pure play?
Grandmaster Maxime Vachier-Lagrave showed off his healthy air after the preliminary rounds, which he coasted through placing 5th out of 16.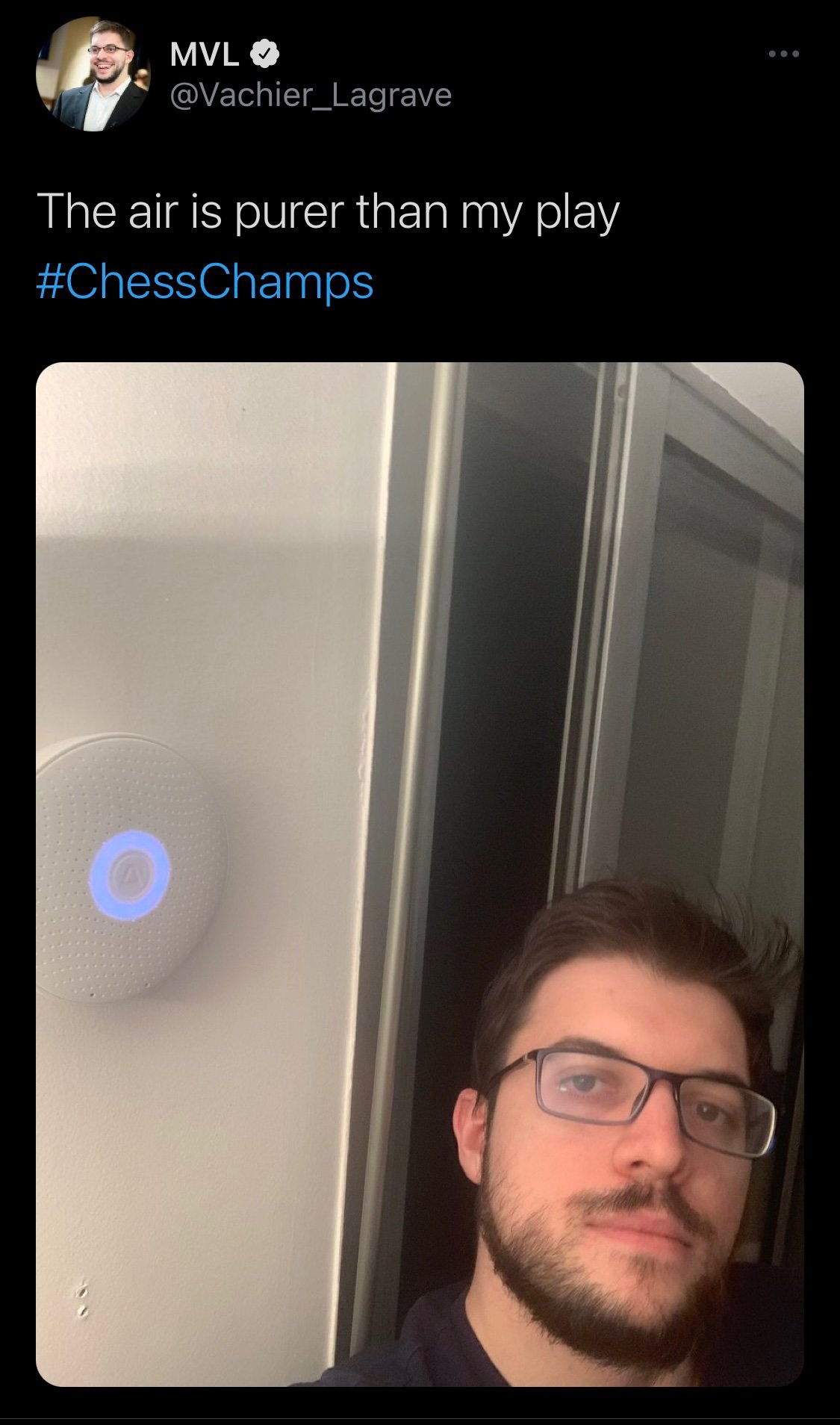 The French no. 1 continued to perform well, qualifying into the semi-finals but ultimately losing to Carlsen, and placing fourth in the tournament. During the semi-final games, his CO2 , humidity, and VOC levels were all nearing unhealthy, indicating that he could have benefitted from increased air circulation and ventilation during the semi-finals.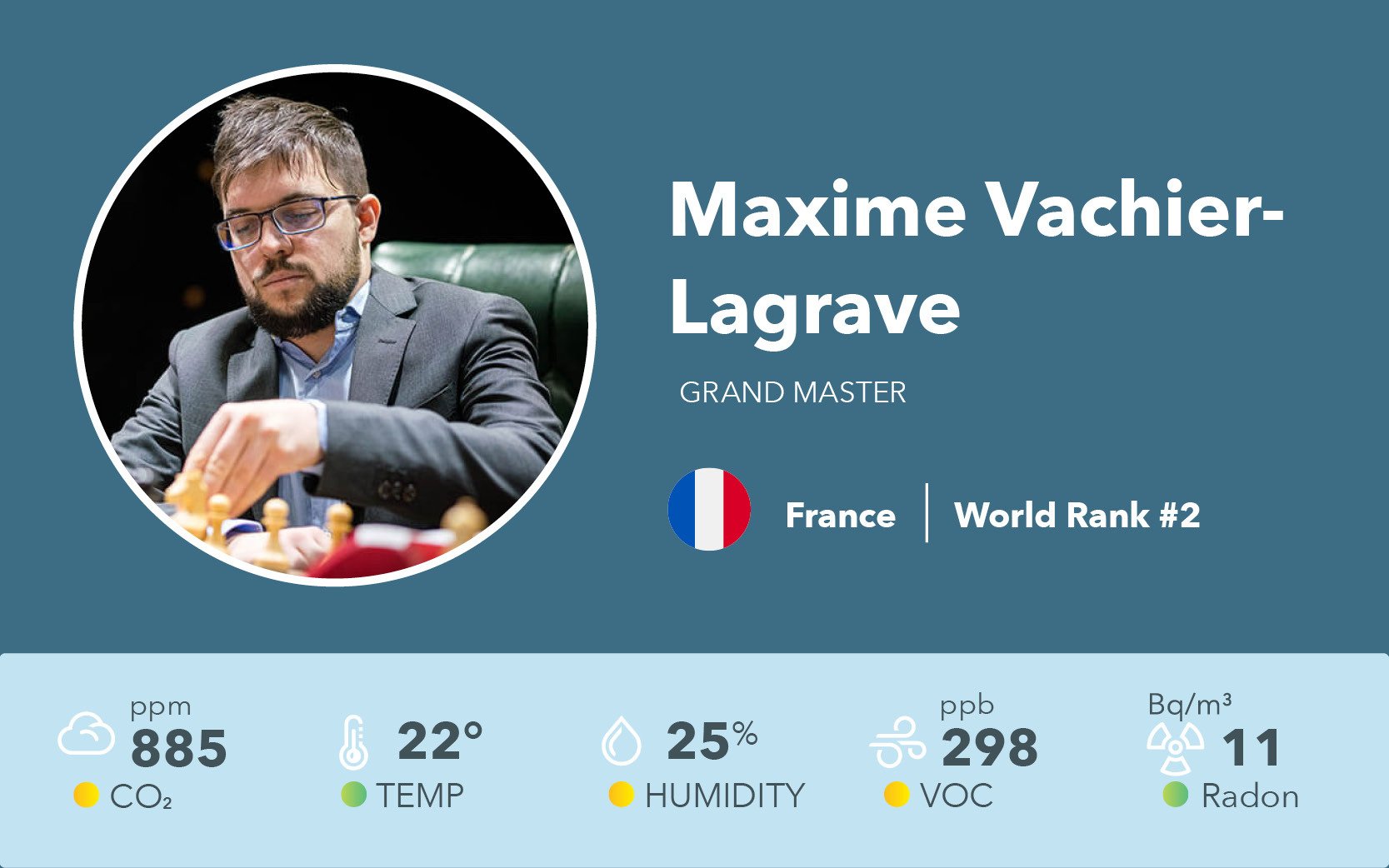 The Airthings device that opens balcony doors
After the preliminary rounds, grandmaster Anish Giri hit unhealthy CO2 levels at a peak of 1,115 ppm. We recommended opening a window to increase fresh air circulation but understandably, no one wants to open a window when it's snowing out. He did however, give us a great recommendation for our next product!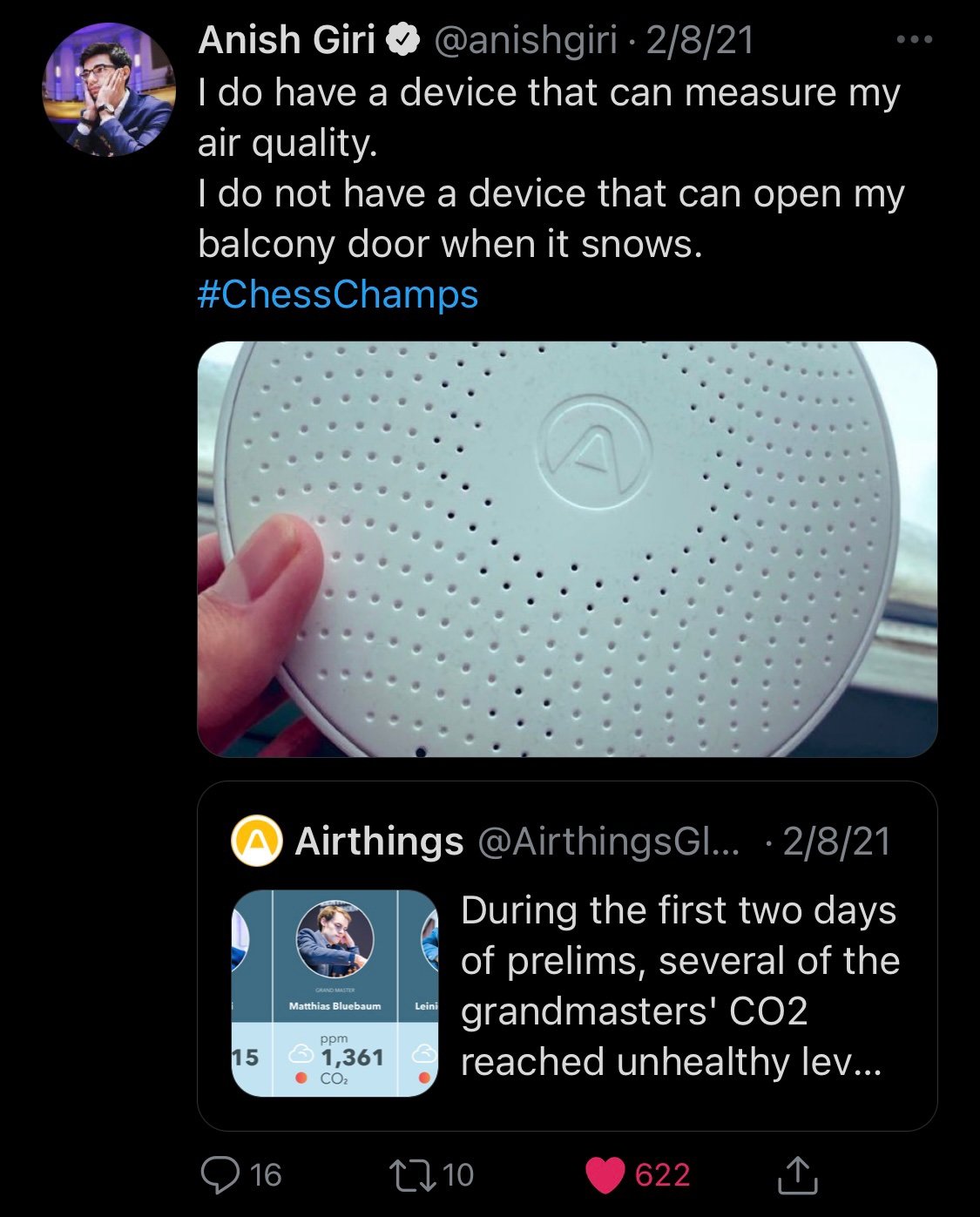 Nevertheless, opening a window while it was snowing would have alleviated two unhealthy air qualities for Giri - both lowering his CO2 levels and his indoor air temperature, which sat at a balmy 25°C. While Giri and others had hopes for a Valentine's Day date with grandmaster Carlsen, Giri was eliminated in the quarterfinals.
On the other hand, grandmaster Matthias Bluebaum was playing in the cold, with an average temperature of 14°C. Unfortunately, the German no. 1 was eliminated in the preliminaries.
Rising CO2 levels in the home
Throughout the tournament, we saw consistently high levels of CO2 in the grandmasters' air. Studies show that as CO2 levels rise, people have a much harder time performing complex tasks and making decisions - neither of which are ideal during an intense chess game!
During the preliminaries, grandmaster Leinier Domínguez had the highest average CO2 levels. Domínguez was eliminated in the preliminaries, but not before he won three out of four of his final games, defeating Duda, Grischuk, and Nepomniachtchi and costing two of these players their qualifying chances1.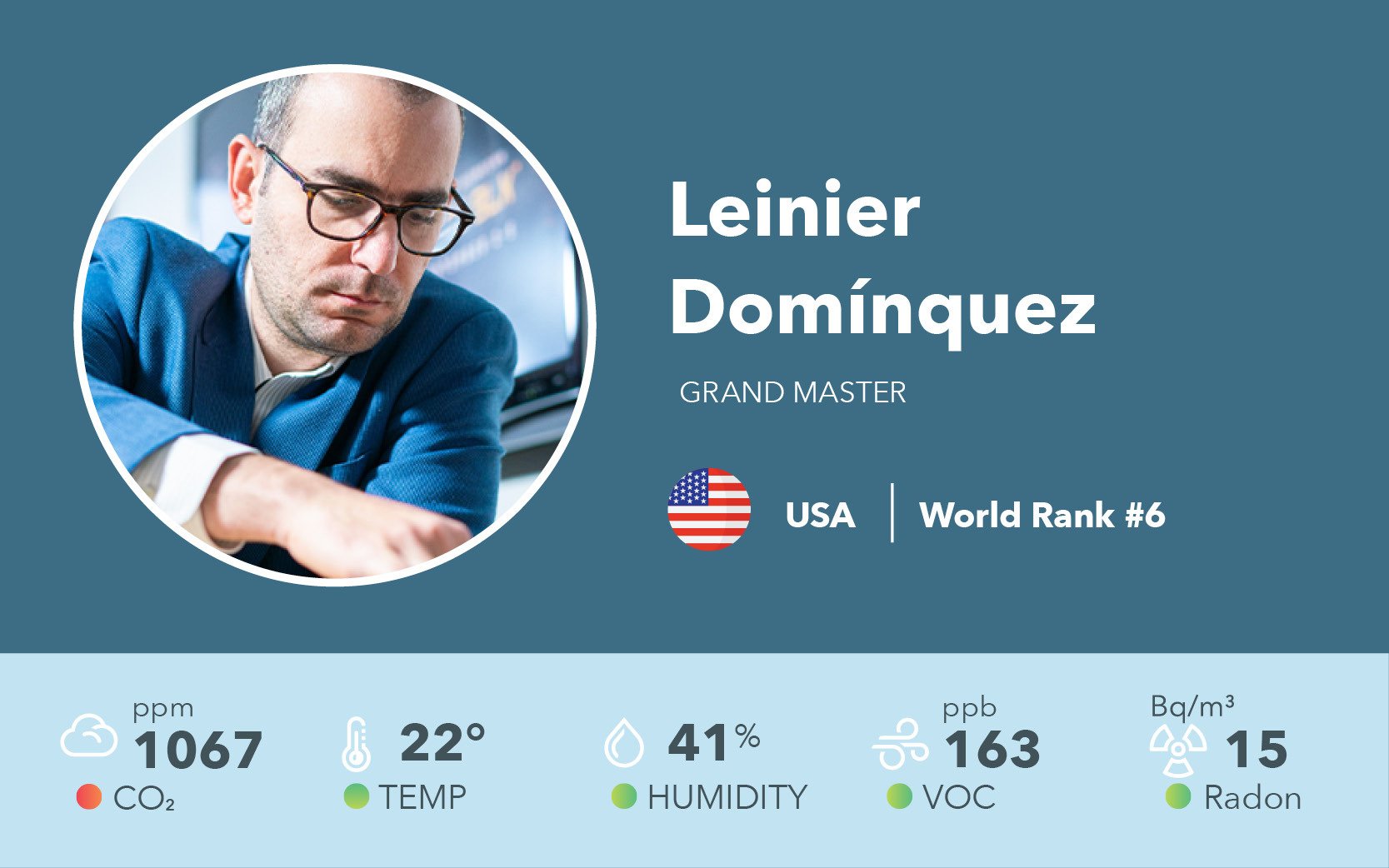 When good air quality wasn't enough
Several of the grandmasters had healthy air quality all around - but it wasn't enough to take home first place. Grandmaster Jan-Krzysztof Duda performed well in the preliminary rounds, placing 6th, but ultimately lost in the quarterfinals to the tournament winner, Wesley So.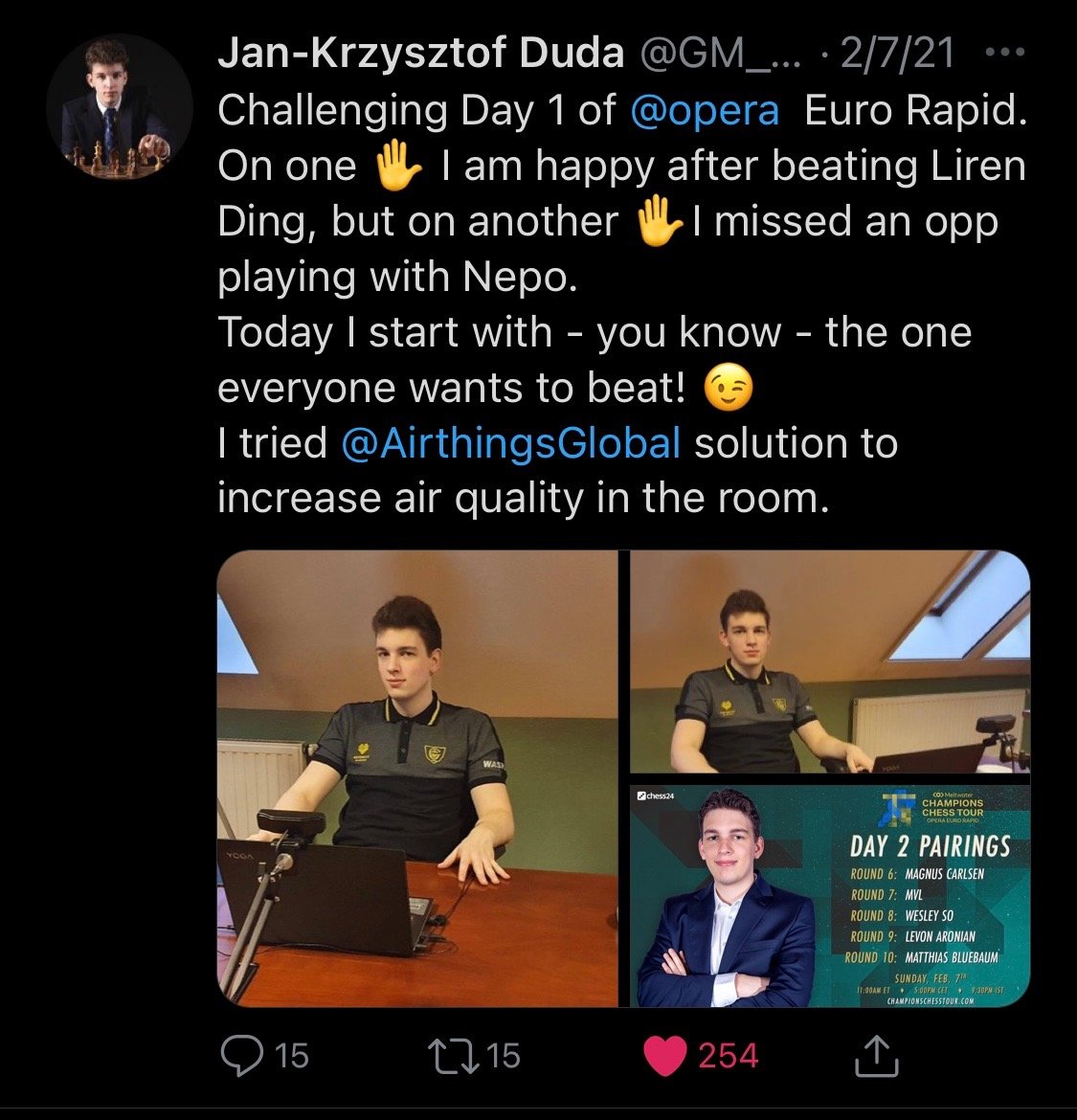 Grandmasters Sam Shankland and Vidit Gujrathi were both eliminated in the preliminaries - but at least they both had healthy air! Shankland missed qualifying for the quarterfinals by just half a point, but the 2018 US Champion stayed in good spirits and good air.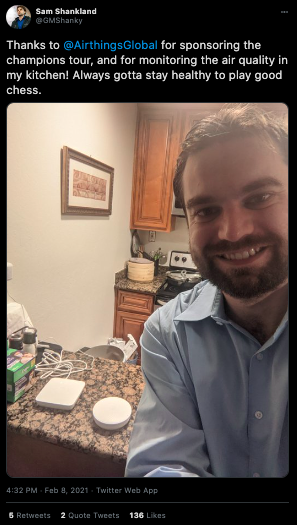 The next event takes place this Saturday, February 20th at 15.00 CET. Tune in for the Hand & Brain with Radjabov & Giri at 15.00 CET and follow along on airthings.com/chess for our air quality insights!
Sources
1. https://chess24.com/en/read/news/opera-euro-rapid-3-carlsen-top-as-nakamura-crashes-out