background
For the first time in chess history an elite online chess tournament took place with all competitors in the same location. As part of the Meltwater Champions Chess Tour, eight of the world's best players including the world chess champion Magnus Carlsen descended on Oslo for the first edition of the Oslo Esports Cup (April 22-28th 2022). The venue, the Oslo Esports Arena, was the first chess facility of its kind, with a dedicated and retrofitted playing area, commentary studio, state-of-the-art lounge, and a spacious foyer for the incoming players, staff, and chess fans. A stone's throw away from Airthings headquarters in downtown Oslo, the arena represented the perfect opportunity to showcase the Airthings for Business solution using the performance and comfort of some of the world's best thinkers as a key metric. Since air quality can directly affect cognative ability and decision-making, it is essential to keep the space as fresh as possible for the performing chess stars and other working professionals alike. Unlike traditional sporting arenas or stadiums, for Esports arenas it's not about size - "You would think that in this case size matters, but it's all about an immersive experience that venues can provide to everybody who's into competitive gaming," says SENET an SAAS business specializing in the optimization of professional Esports facilities.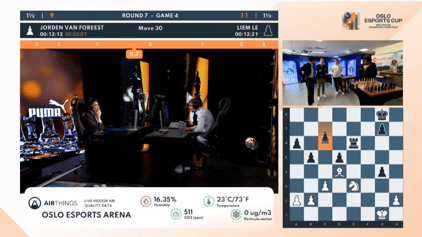 Pictured: Air Quality readings of Lê Quang Liêm & Jorden Van Foreest during the final round of the Oslo Esports Cup.
the challenge
Using air quality monitoring and data driven solutions we already help Grandmasters like Magnus Carlsen to create the ideal air quality environment for his play within his gaming room. However, the Esports Arena represents a different challenge. The goal was to create a playing environment where 8 Grandmasters, commentary teams, staff, and fans can not only play comfortably but breathe better and even play better.

Pictured: Magnus Carlsen and his Airthings View Plus device, with his healthy IAQ readings displayed.
chess, csports, and air quality
In 2019, a research team from MIT and Maastricht University in The Netherlands found that poor indoor air quality hampers cognitive performance significantly. The study, followed over 100 players and ran for over 3 years to collect the data which met stringent scientific standards. Conclusively, they discovered that an increase in the indoor concentration of the common pollutant fine particulate matter (PM2.5) by 10ug/m3 increases a player's probability of making an erroneous move by 26.3%. These findings aren't just relevant for chess players. Esports athletes as well as any professionals working indoors can benefit from understanding and improving their indoor environment.
Did you know, there are internationally recognised standards of healthy indoor air quality environments? The WELL Building Standard™ (WELL) and RESET® Air certifications list these requirements in buildings, and of course Airthings HQ in Oslo, and many of Airthings B2B customers proudly display these certificates within their offices. Along with continued air quality monitoring, these certificates verify the cleanliness and health of workspaces and Esports arenas alike.
Pictured: Inside the Esports Arena; Magnus Carlsen after defeating Rameshbabu Praggnanandhaa.
the arena
Along with computers, desks, chairs, and filming equipment, three Airthings View Plus devices were placed in key positions around the building, such as the playing area, studio, and lobby. The combination of multiple data points allows both the user, in this case the Meltwater Champions Chess Tour to gain unparalleled insights into their indoor air quality (IAQ) environment and in doing so to optimize said environment in the future. By using the Airthings for Business Dashboard real-time IAQ data is obtained and historical trends for 7 different IAQ including CO2, Humidity, Particulate Matter (PM), and Volatile Organic Compounds (VOC's) factors are visible to the end user. The air quality data from the Oslo Esports Arena appears below and was streamed live on airthings dedicated chess page.



the IAQ data and solutions
The key findings from the Oslo Esports Arena diagnostic are discussed below. We walk you through 4 air quality metrics linked to cognitive ability, what they mean, what the reading was, and how we'd to it.
Carbon Dioxide or CO2 is a greenhouse gas that is natural and harmless in small quantities, but as levels rise it can affect productivity and sleep.
The Arena was extremely well-ventilated. It was clear the ventilation was working well for the number of people in the rooms considering thresholds were never breached during the week long event. The HVAC performance was excellent for the players who were consistently breathing air with healthy and cognitively supportive oxygen levels.
Humidity is a measure of the amount of water vapor in the air. Relative humidity measures the amount of water in the air in relation to the maximum amount of water vapor (moisture).

The humidity level was quite low, but similar to the outdoor humidity, still the humidity levels from Sunday to Monday were below recommended levels. At these levels humidity is mainly influencial in players comfort levels. Low humidity is naturally occurring in cold Nordic climates which could possibly be preferential to players like Carlsen. The best way to improve low levels of humidity is with the use of humidifiers.
Particulate matter, or PM, isn't just one contaminant or pollutant. It's a range of particles of dust, dirt, and liquids that become suspended in the air. Some of these are large enough to see, like smoke, smog, or soot, but the most harmful are smaller, invisible particles.
The sudden spikes suggest that specific events caused an increase in PM levels. Within the arena, some of the largest filming equipment including a motorized camera in the playing area was the culprit for the spikes which coincided with the air times of the chess broadcast. Otherwise, PM can be introduced even from outdoor air if it's polluted enough and can be created indoors by activities such as cooking or cleaning (where there is movement of fine dust or combustion). Good ventilation including HVAC and windows, air purifiers or even house plants can help reduce PM within your indoor environment.
Volatile Organic Compounds (VOCs)
Volatile Organic Compounds (VOCs) are a combination of gases and odors emitted from many different toxins and chemicals found in everyday products.

The VOC levels are good overall; however, there are noticeable spikes. These can be explained by both the players populating the playing area during the times that VOC's rose, this could have been something as simple as cologne or something as complex as a noxious energy drink being opened near to the sensor. Since the levels quickly reach the healthy threshold after the spikes we can conclude that there is good exposure to fresh air within the playing area.
the results
After a week of breathtaking chess Airthings Ambassador Jan-Krzysztof Duda was the winner of the event overtaking fellow Airthings Ambassadors Magnus Carlsen and Liem-Quang Le in the last round to clinch the $210,000 Oslo Esports Cup.
what is Airthings for Business?
Airthings is the global leader in indoor air quality (don't just take it from us). We help our customers to monitor and optimize commercial, residential or public buildings to improve indoor air quality, energy efficiency and save time.
Are you interested in gaining these insights for your business? Visit airthings.com/business or Contact us.