Carbon dioxide, productivity, and health are closely linked. In this article, you'll find out how to control CO2 and optimize your home for relaxation, productivity, and sleep.


Things you should know about CO2
Carbon dioxide is a greenhouse gas that is harmless in small quantities. However, higher levels affect how we feel and perform.

We all breathe out CO2 and it tends to build up indoors, particularly in airtight rooms with little ventilation. High concentrations are associated with restlessness, drowsiness, headaches, and poor concentration.

Studies show that cutting carbon dioxide in the air we breathe can boost decision-making scores by 101%, and that better ventilation helps students get higher test scores.

Excess carbon dioxide can lead to disrupted sleep and conditions like sleep apnea.

Airthings indoor air quality monitors provide a reliable source of real-time and historical information on CO2 levels in your home.

Using this data, you can control carbon dioxide, by ventilating the problem areas of your house more effectively, limiting any naked flames, and adding houseplants.
How to ensure a healthy and relaxing home
We all breathe out carbon dioxide and it is in the atmosphere all around us, but too much CO2 can start to affect how good we feel, how well we sleep, and how productively we work or study.
When we're home, naturally we want the best indoor air quality and the best environment, to ensure the health and wellbeing of ourselves and our family. To achieve this, it's important to monitor and control CO2 levels, so that your property is a comfortable and healthy place to rest, work, and play.
What is carbon dioxide (CO2) and where does it come from?
Carbon dioxide, or CO2, is made up of one molecule of carbon and two of oxygen. This colorless, odorless greenhouse gas is harmless in small quantities. Indeed, it's absolutely critical for life, because plants use CO2 to make their food, enabling them to grow and in turn feed us and all life on the planet.
We hear a lot about the problems associated with too much CO2 outdoors: it builds up in the atmosphere when we burn fossil fuels, trapping heat, and helps in creating a warming effect on the earth's climate otherwise known as climate change or global warming.[1]
But what we'll discuss below is the effects of too much CO2 indoors on the way we feel and perform. We'll also look at ways to keep it under control, to make sure we have the healthiest environment in which to live and work.
How does CO2 affect health and wellbeing?
Because we all breathe out carbon dioxide, the gas tends to build up indoors, particularly when there isn't much ventilation. Modern homes have become more airtight, in order to save on energy costs, while many of the ventilation systems we use today recycle air to be more efficient.


The result can often be high concentrations of CO2 and poor indoor air quality. High levels of carbon dioxide are associated with restlessness, drowsiness, headaches, and poor concentration.[2] The highest concentrations cause symptoms like sweating, increased heart rate, and breathing difficulties.[3]
Concentration and performance in work, study, and more
As it becomes more common to work or study at home, it's important to have a good environment for productivity. Recent research shows that we perform decision-making tasks much more poorly when CO2 levels are high. A recent Harvard study found that better air, meaning air with lower concentrations of carbon dioxide, could boost cognitive scores by 101%.[4]

Good air quality is already something that is widely associated with sharp thinkers. In chess more than most things in life, one small error can be fatal to your chances in a game. That's why since 2020, Airthings has been supplying the world's best chess players; including Magnus Carlsen, with air quality monitors so they can ensure their playing environment is optimal.


In schools, scientists have uncovered 'compelling evidence' that better ventilation and lower CO2 lead to students performing better.[5] One experiment found that 10 to 12-year-olds could do tasks relating to numbers and language more quickly in improved conditions,[6] while another study showed that less carbon dioxide could boost math and reading scores by 2.9% and 2.7% respectively.[7] Controlling carbon dioxide in the home helps to provide children with a better environment for home learning, homework, and studying for exams.
Sleep quality and comfort


Equally, if bedrooms in your home are poorly ventilated, carbon dioxide is likely to make you less comfortable and disrupt your sleep. This is especially important considering most of us spend more than one-third of every day in our bedrooms. When people are sleeping, research shows that concentrations of CO2 are 3 to 5 times higher when the bedroom window is closed.[8] As a result, you're less likely to fall asleep or wake up feeling refreshed.




Studies also show that better ventilation helps people feel better rested and more alert, after their night's sleep.[9] Carbon dioxide is also linked to conditions like sleep apnea, and it's thought to trigger neurons that can rouse you from your sleep.[10]


What's the difference between carbon monoxide is not carbon dioxide?



It's a more common misconception than you'd think. One is CO, and the other is CO2 but where carbon monoxide is deadly in even small amounts. Carbon dioxide is naturally occurring from humans' exhaled breath or can occur from combustion like through the burning of candles. The most common causes of carbon monoxide building up are incorrectly installed or faulty appliances - like stoves and hot water heaters. The Environmental Protection Agency in the U.S. recommends getting a CO monitor for your home with an active CO alarm.

How can I monitor and control CO2 in my home?
Using an air quality monitor with a CO2 sensor
To manage CO2 in your home successfully, you'll need a reliable source of information on levels of the invisible gas. By installing Airthings' indoor air quality monitors like the View Plus, you'll gain real-time and historical information on CO2 levels in your home. The sensors also gather data on important pollutants, like radon, particulate matter (PM2.5), and VOCs, as well as key aspects of air quality like temperature, humidity, and air pressure. Airthings can even send you push notifications through the Airthings app if you wish to be notified the moment your CO2 levels go past the optimal threshold.




Designed in Norway, Airthings products and air quality monitoring solutions utilize wireless technology and long-lasting batteries, so there's no need for a free socket or a time-consuming installation process, just plug and play. However, the View Plus does come with a hub feature that allows you to connect your device via USB which enables your live View Plus data and any other Airthings devices data to be accessed by you anywhere at any time. You'll be up and running in no time and all the vital information can be accessed through the user-friendly dashboard or Airthings app.

What's a good number for CO2?
Outdoor air contains about 400 ppm (parts per million) of carbon dioxide.[11] Indoors, anything under 800 ppm is ideal, and levels higher than this should be addressed, especially as they get to 1000 ppm and beyond. With indoor air quality monitoring, you'll quickly see the full picture of CO2 across your home.
How to reduce CO2 levels in the home
Many of the key methods of controlling carbon dioxide in your home involve ventilation. This can range from simply cracking open a window or leaving doors ajar, to installing air conditioning or a ridiculous amount of plants (you need more than you think). Just remember that some air conditioning systems simply recirculate used air which can make the problem worse.
We discussed earlier how opening a window in the bedroom makes it feel fresher and helps you get a better night's sleep. If your room is likely to get too noisy, fumy, or hot as a result, then it might be necessary to open doors, install a fan, or open the vents in your central air system. The important thing is to get some air circulating around the bedroom.
Likewise, in the living room, study, or kitchen, CO2 could be sapping your concentration or making you feel drowsy. Opening a window is ideal, but if you feel that's too cold or noisy, then try a fan or air-conditioning. That being said, often when we feel drowsy from the effects of CO2 it's often too late to avoid impact in our performance. That's why continuously monitoring your CO2 can help you avoid these negative effects before they impact your brain.
It's worth remembering that combustion is a major source of carbon dioxide, so if you want to avoid build-ups, try not to use open flames in the house, whether they come from candles, fireplaces, or ranges. Houseplants absorb CO2 and give out oxygen, making them a useful way of reducing the gas.[12]
Your home is your castle. As some of the world see's a rise in home office work, in the last few years many of us have been spending more time there than usual. Additionally, we are increasingly doing things that we've traditionally done elsewhere, like exercise. It's a great time to make sure that your home is a healthy, relaxing, and productive place to be, by focusing on indoor air quality and carbon dioxide.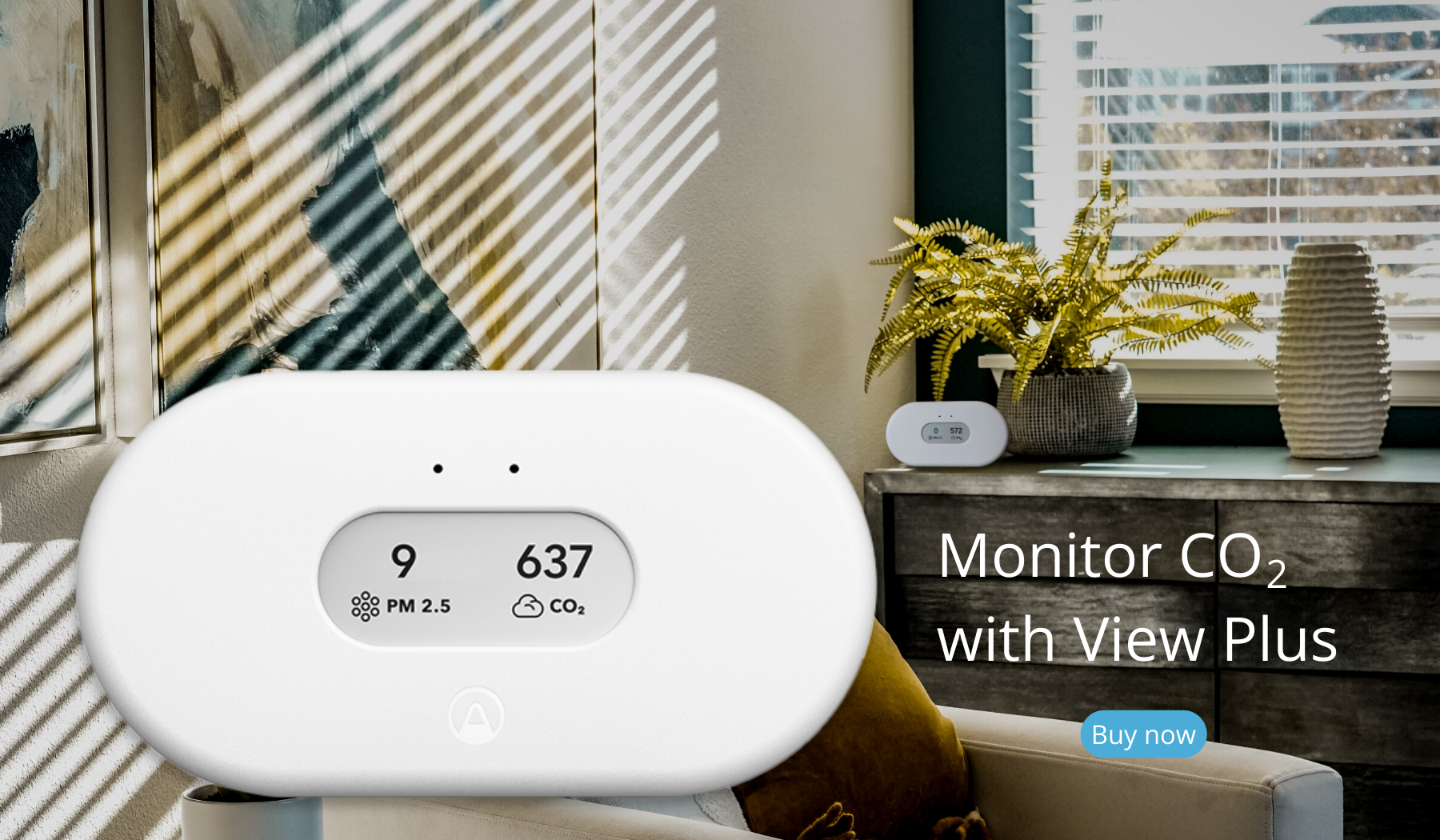 Sources:
[1] https://climate.nasa.gov/vital-signs/carbon-dioxide/
[2] https://www.jacionline.org/article/S0091-6749(54)00063-2/fulltext#section.0070
[3] https://www.airthings.com/what-is-carbon-dioxide
[4] https://dash.harvard.edu/bitstream/handle/1/27662232/4892924.pdf?sequence=1
[5] https://onlinelibrary.wiley.com/doi/full/10.1111/ina.12403
[6] https://www.gwern.net/docs/co2/2015-stafford.pdf
[7] https://www.ncbi.nlm.nih.gov/pubmed/21029182
[8] https://onlinelibrary.wiley.com/doi/pdf/10.1111/ina.12254
[9] https://onlinelibrary.wiley.com/doi/pdf/10.1111/ina.12254
[10] https://medicine.uiowa.edu/content/specific-neurons-trigger-waking-due-inhaled-co2
[11] https://www.airthings.com/what-is-carbon-dioxide
[12] https://www.matec-conferences.org/articles/matecconf/pdf/2017/17/matecconf_iscee2017_05004.pdf