The air you breathe can aggravate your asthma symptoms, so how do you combat this?
Keep reading, check out our other articles below!

How to improve indoor air quality to help control asthma

Tips to help with pollen allergies and hay fever
To start with, it's vital to have accurate information about the air in your property and any problems that it might create. Airthings indoor air quality monitors provide data about pollutants and factors that cause and trigger asthma in the home, like CO2, particulate matter (PM), humidity, and temperature, as well as the in-app feature My Pollen Levels.
With a reliable source of real-time information and alerts, you can keep track of conditions in your home and make adjustments to optimize your environment.

If CO2 is building up in your home, good ventilation is key. It might be enough to open a window, but you should also make sure any heating and ventilation systems are working well. By contrast, levels of PM will depend on the environment outside. Pollen and other particles that trigger asthma could actually get into your property through open doors or windows.
If you have a heating and cooling system, a high efficiency filter helps clean the air by removing pollen, smoke, and other particles, as well as dispersing carbon dioxide safely. Make sure the equipment is serviced regularly and replace filters as per the manufacturer's instructions16.
We've seen that warm, humid conditions encourage allergens that trigger asthma, like dust mites and mold, to thrive.
To prevent high humidity, good ventilation is important. When you're cooking, use a ventilation hood, and, when you're using the bathroom or laundry, make sure you activate extractor fans. It helps, as well, to heat your home to a consistent temperature, and avoid drying towels or other items on radiators.
When it comes to temperature, excessive heat can cause heavier or faster breathing. To create more consistent and comfortable conditions, turn down the thermostat a little, but leave the heating on for a longer period. Your property will be more comfortable and less humid as a result.
Pollen and asthma
Substances, including pollen, that cause allergies can trigger asthma. If you inhale something you are allergic to, you may have asthma symptoms. This is called allergic asthma according to the Asthma and Allergy Foundation of America and it is something that is on the rise6.
In fact, a study found a 54% increased chance of asthma attacks7 when exposed to pollen. To help combat this, check your local pollen levels. The My Pollen Levels algorithm uses weather, pollen production, land cover, and trends to give you the most accurate measurements. The data is localized and based on 1km radius (.62mi) versus other pollen data which is often regional. If you know there is a high pollen count in your area, you can:
Turn on filtration units like an AC or forced air unit.

Use an air purifier to clean the air in your home

Keep your windows closed when pollen levels are high
Other ways to keep asthma under control
Health bodies, such as the US National Heart, Lung, and Blood Institute, recommend working with your doctor to create an 'asthma action plan'. Through this type of cooperation, and your own experience, you will learn to identify the triggers that worsen your symptoms17.
Some people with asthma are sensitive to medicines, like aspirin, so you may be asked to avoid particular medication by your doctor, or discuss how you use it. Outdoor air pollution, or very cold air, can trigger the condition, so keep an eye on the weather forecast, and make informed decisions about going out.
It's important to avoid triggers, as well as to promote good health by eating well, maintaining a healthy weight, getting exercise, and managing stress. These lifestyle changes, in conjunction with monitoring indoor air quality in your home, could be the key to helping keep symptoms under control18.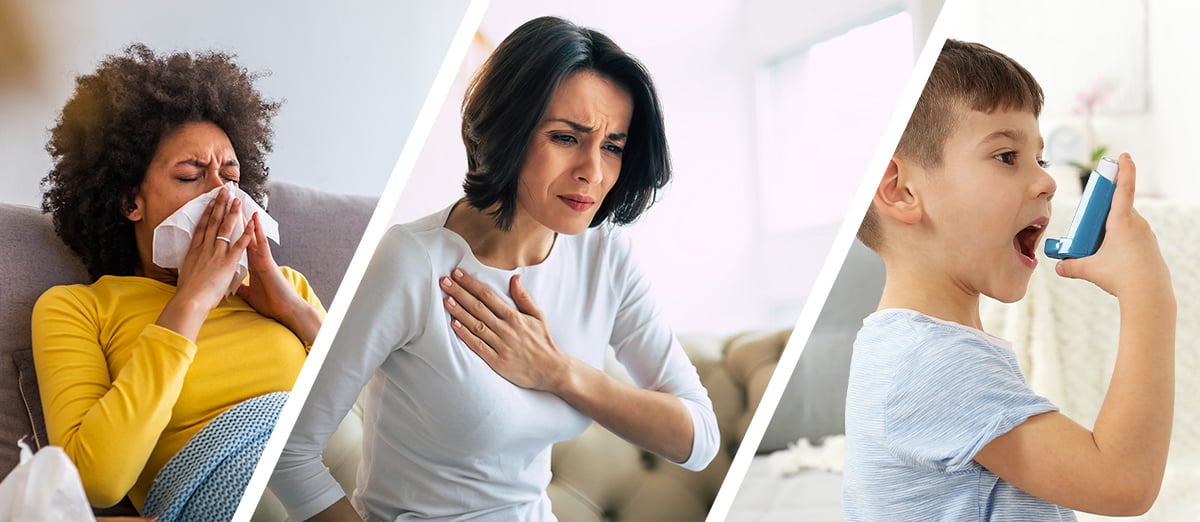 In summary:
Poor indoor air quality in the home can cause asthma to develop and trigger the disease in people with existing symptoms.
When you have asthma, your airways are inflamed, and allergens in the air aggravate your lungs further, making symptoms like coughing, wheezing, and breathlessness worse.
High humidity encourages allergens linked to asthma, like dust mites and mold, to thrive.
Airthings indoor air quality monitors provide important real-time information on asthma-affecting pollutants and factors like CO2, humidity and temperature, and features like My Pollen Levels so you can take action and optimise your environment.