Home Automation with
Airthings & Homey
What's Homey?
Homey is an easy-to-use smart home control and automation system that lets you manage your home from anywhere in the world. Airthings Internet-connected monitors can be used with Homey to trigger your home's other smart devices. In Homey, you create Flows in which events or devices trigger one another. Flows are a snap to set up and make it simple to have a more comfortable, secure, energy efficient and fun home.
Homey talks with more than 50,000 devices from over 1000 different brands so you can create an infinite number of Flows! Homey also provides insights into your energy usage – of the whole home, and even per device, helping you save energy. In short: with Homey your smart home works the way you want it to.
Visit the Homey website
Getting started with Homey
Starting with Homey is a snap. Just download the Homey app from the Apple Store or Google Play Store, and create your Homey account. Then, add your home's internet-connected Airthings monitors and any other smart devices you have from brands like Philips, Sonos, Nuki, Dyson, and many more.
Airthings at Homey
The Homey family
The Homey system, including devices like Homey Bridge and Homey Pro, makes it possible to unite all your smart home products, regardless of the protocol they use. It can even provide insight into your energy usage per device or in your entire home, helping you to reduce energy waste and save money.
Learn more at homey.app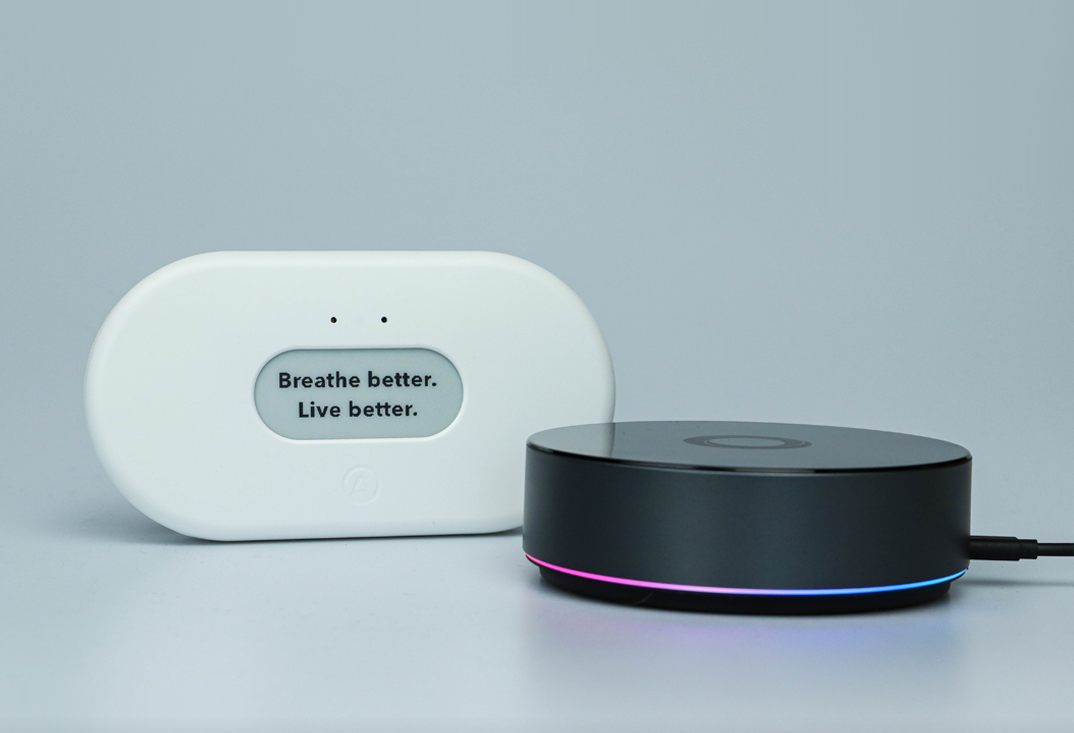 Airthings & Homey FAQ
Internet-connected Airthings monitors can be used to trigger Homey flows thanks to a cloud-to-cloud integration. Here's some more information about how Airthings talks with Homey.
Yes and no. Homey Flows are triggered by real-time air quality data sent to your account in the Airthings cloud. So, you can use Homey to trigger Flows if your monitors are Internet-connected. In other words:
You CAN use Homey if you have:
- Any View series monitor (like View Plus)

- An Airthings Hub serving one or more Wave monitors

- Any View monitor acting as a hub for one or more Wave monitor(s)
You CANNOT use Homey if you have:
- Wave monitors that are not connected to an Airthings hub device (View monitor or Hub)
Make it easier to manage and improve the air quality in your home by combining Airthings monitor readings' with Homey. With the data your Airthings monitor provides, you have a multitude of useful Flows like these.
- Receive a notification on your Sonos speakers when it's time to air-out a room.

- Turn on your air purifier when PM or VOCs are on the rise, turn it off when levels normalize.

- Start your smart ceiling fan when the levels of CO2 get too high.

- Turn on ventilation when people are home.

- Adjust speed of circulation fan based on CO2 levels or if people are home or not.